Affiliate marketing is a great way to earn an extra income or you can devote yourself to it full-time.  If you are looking to start making some real money from affiliate marketing then Rosalind Gardner is the woman to listen to.
I purchased her book about a year ago and I can honestly tell you that it is full of great advice, ideas and step-by-step instructions on getting you on the right track for affiliate marketing.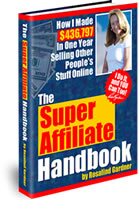 Known as the 'bible' of Affiliate Marketing, Rosalind Gardner's Super Affiliate Handbook is a MUST-READ for anyone who wants to become an affiliate marketer.
In a style that is friendly and humorous, the Super Affiliate Handbook is peppered with real examples of what Rosalind did to become one of the most recognizable Super Affiliates in the world. And she doesn't just tell you what she did right — she exposes the mistakes she made as well — to help you avoid potential problems.
Exceptionally well written, Super Affiliate Handbook covers absolutely everything you need to know about making money as an affiliate marketer.
I HIGHLY Recommended it.
Get the Super Affiliate Handbook today!
Enjoy the day!